When we unboxed the
88 Classics
the first thing we noticed is that they are visual works of art! They really are a special set of headphones, the main stand out feature are the beautifully finished, hand-carved ebony wood ear cups(yes, real wood!) that are polished and varnished to make them more durable. Inside some leather ear cushions that are really well paded and extremely comfortable, they also block a decent amount of external noise, and after extended wearing, still felt light and good. Another stand out feature is the split dual-sided ergonomic headband, it is shock mounted so you get immediate feedback. As the headband automatically adjusts to your head size, it kind of seems to float, with no clicks or adjusting like on a traditional style headband, giving you a perfect fit and prolonged listening comfort.
The cable plugs into the left ear cup with a standard gold-plated 3.5mm jack. Also included is a quarter inch screw-on adapter(6.3mm gold-plated)
To test the headphones we listened to a variety of music styles. The sound was crisp and exceptionally clear; the 88īs provided warm, powerful and defined bass plus clear, concise mids and highs. Definition is definitely up there with the very best headphones.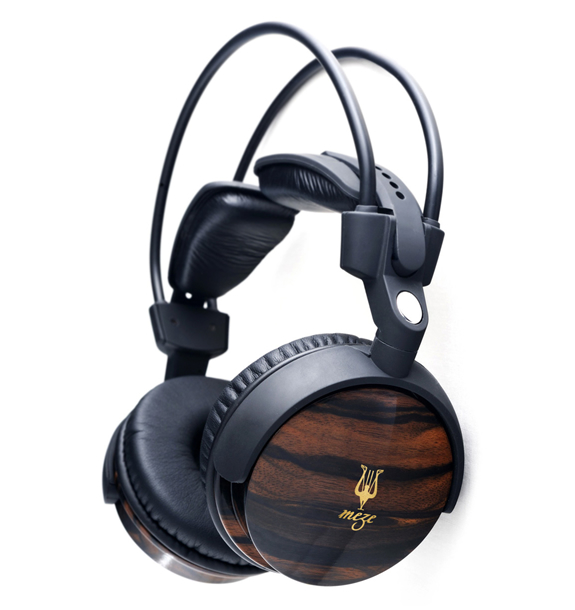 With great distinct features like the floating style headband and the real ebony wood ear cups, plus audiophile quality, there's not much we can ask from a pair of headphones. They might not be a match in the trendy scale for the Beats headphones, but the Meze headphones are not intended to last for just a season. You will be getting some timeless, classic headphones with a combination of high-end technology and style with quality materials and good craftsmanship. They really are as good as they look...
The headphones tested are the gloss wood finish, but if you crave a more sophisticated look, satin-finished 88s are also available.
TECHNICAL DATA:
-Frequency response: 20Hz - 20KHz
-Sensitivity:107+/-3dB at 1KHz,1mW.
-Impedance: 40 Ohm
-R&L balance:<3dB(50Hz-6KHz,1mW)
-Dedicated 50mm Neodymium drivers
-detachable one side cable
-weight: 290gram
-Plug:3.5mm & 6.3mm gold-plated
Check out the Meze
website
for more stunning contemporary headphones, or follow Meze on
Facebook
for their latest news and updates.
Photography:
blessthisstuff