Ziiiro Mercury
We take a look at the latest addition to the Ziiiro family, the Ziiiro Mercury. As all Ziiiro watches the Mercury is also minimalist in design and features an unconventional dial composed of overlapping discs, one for indicating hours, one for indicating minutes. Check out some more details and photos below.

Ziiiro make unconventional watches, they have no hands or markings, instead they have a constantly changing pattern of rings indicating the passing of time. The main theme is minimalism, so there are no distracting elements in the design, and after a short time you will acquire a feel for reading the time.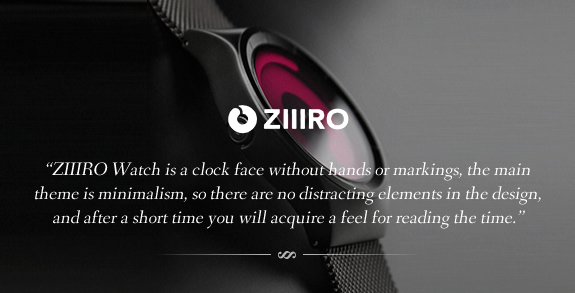 The ZIIIRO Mercury displays time in a simple and unique way. The tip of the inner swirl represents the current hour, while the outer swirl displays the minutes, with a continuous gradient movement showing the passing through time.

You might be asking if it is easy to read time on this? Well, the Mercury shows you the time in an elegant and visually pleasing manner, and the technology used is actually quite simple. The face displays color-rotating layers(discs), using a semi-transparent material. By overlaying both layers, according to the time, the colors change, creating an array of stylish gradients. One disc(inside) indicates the hour the other the minutes. The bezel has marks to help give you a more accurate indication of time. You actually get used to it very fast.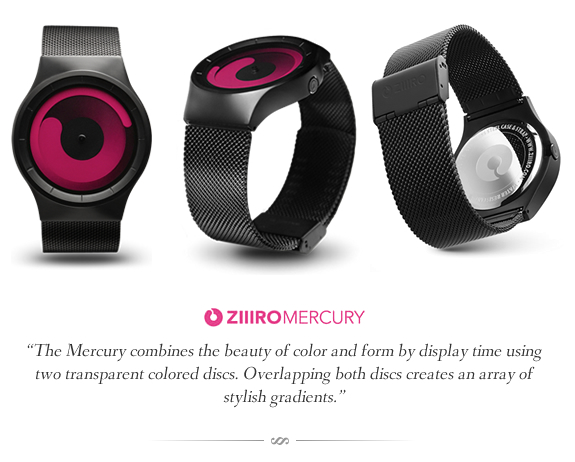 You can get the Ziiiro Mercury and other models in the US at Amazon. In Europe you can get them at Ziiiro online store or Amazon UK.



SPECIFICATIONS





OVERALL DESCRIPTION


- Case: Stainless Steel Case with/without PVD (Physical vapor deposition) in matte Black
- Case Back: Polished Stainess Steel with Snap-up enclosure
- Dial: Plain White with no markers
- Strap: Chrome / PVD (Physical vapor deposition) matte Black
- Crown: 3 Hour Position
- Hands: Colored Discs // Hour and Minute



COMPONENTS


- Case width: 40mm
- Case thickness: 8mm
- Tapered mesh strap: 23mm to 21mm
- 316l stainless steel
- Miyota 1l-26 quartz movement
- Hardened mineral crystal
- Snap-up case back
- Battery: sr616sw
- Water resistant - 3atm
- One year warranty



Photography:

blessthisstuff

Also check out our hands-on the Ziiiro Celeste
Bracelet in the picture is from "Naimakka Paracord Bracelets", check them out here