Ziiiro Celeste Mono
Sometime ago we did a feature on Ziiiro watches, since then we have been drooling over these stylish and inventive timepieces. So when Ziiiro sent over the Celeste model we were really excited to review this minimalist and unconventional watch. Read our thoughts and check out some pictures below...

Watch manufacturer Ziiiro uses different shapes and concepts to target customers seeking innovative accessories. Their unconventional watches have no hands or markings, instead they have a constantly changing pattern of rings indicating the passing of time. The main theme is minimalism, so there are no distracting elements in the design, and after a short time you will acquire a feel for reading the time.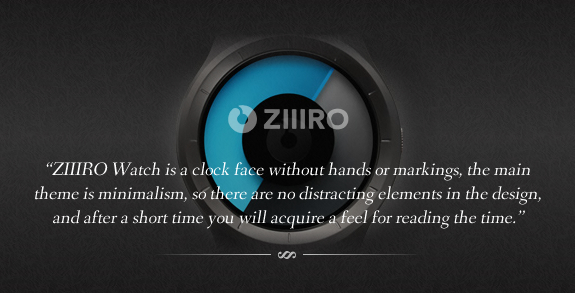 We had only seen pictures of
Ziiiro watches
, and to be honest, we were a bit wary about the build quality. We have to say we were pleasantly surprised, the Ziiiro Celeste is quite robust and has a good weight to it for a 40mm case size. The matte pvd black case is 8mm thick, and the case back is polished stainless steel. The watch has a pvd stainless steel mesh bracelet, we found it to be quite flexible and very comfortable.
Another of our mind-boggling questions were: How do you read time on this? How long would it take for reading time? Well, the Celeste shows you the time in an elegant and visually pleasing manner, and the technology used is actually quite simple. The face displays color-rotating layers(discs), using a semi-transparent material. By overlaying both layers, according to the time, the colors change, creating an array of stylish blue and grey. One line indicates the hour the other the minutes. The bezel has marks to help give you a more accurate indication of time. You actually get used to it very fast.
Watch the video below for the watch in action
.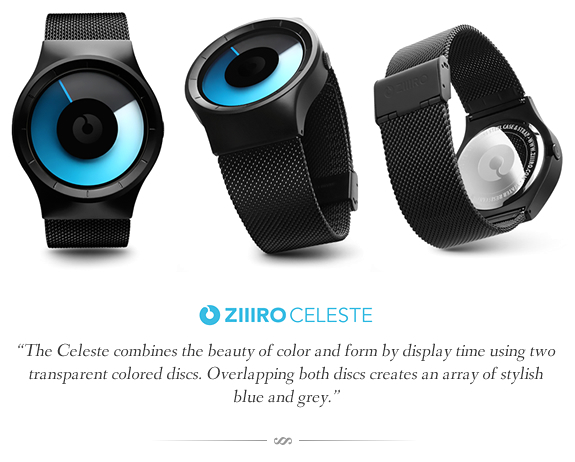 Frankly, we really like this watch, Ziiiro offers some other styles but the Celeste with the black steel case and the black stainless steel mesh strap, gives the watch a much more sophisticated look. Its actually a classy piece that fits in for a variety of situations, it will no doubt start conversations with anybody who notices it. If you want an uncommon and beautiful clock on your wrist, for a reasonable price, this is the watch for you.

Downside? You can´t read the time at night, we would love to see the colorful face light up with a push of a button, how cool would that be?

Check out the Ziiiro website for more cool watches, or follow them on Facebook for news and updates.

You can get the Ziiiro Celeste and other models in the US at Amazon. In Europe you can get them at Ziiiro online store or Amazon UK.




SPECIFICATIONS





OVERALL DESCRIPTION


- Case: matte pvd black
- Case back: polished stainless steel
- Dial: plain white with no markers
- Strap: matte pvd black stainless steel mesh
- Crown: 3 hour position // matte pvd black
- Hands: transparent colored discs // hour and minute



COMPONENTS


- Case width: 40mm
- Case thickness: 8mm
- Tapered mesh strap: 23mm to 21mm
- 316l stainless steel
- Miyota 1l-26 quartz movement
- Hardened mineral crystal
- Snap-up case back
- Battery: sr616sw
- Water resistant - 3atm
- One year warranty



Photography

blessthisstuff