Ventura Sparc Mgs
Ventura

watch company was established by Pierre and Yuko Nobs in 1989, they developed the first automatic watch with a digital display. Ever since, numerous Ventura timepieces have been granted international awards for their outstanding design. Blessthisstuff had the luck of being able to hold one of their masterpieces, the company's spectacular flagship watch, the Ventura SPARC MGS. Read our thoughts and check out some pictures below...


We must start of by saying, we have reviewed several watches during the last couple of years, but none have had the impact of the

Ventura SPARC MGS

. This is definitely something different and unique. You can sense a lot of hours and effort were put in the design and manufacture, the result is nothing but mind blowing. No wonder this watch has won the coveted

RedDot Design award "best of the best" 2012

.

Every Ventura watch is built from scratch and handmade, not only does Ventura work with accomplished designers, they also develop and manufacture their own movements, making them the only Swiss "Manufacture électronique" engaged in making high-quality digital timepieces.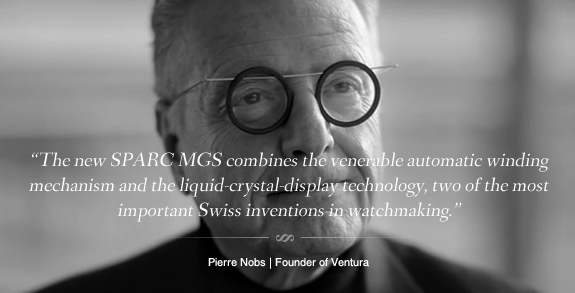 The new Ventura SPARC MGS combines both great design and engineering in one timepiece. It is made out of Durinox hardened stainless steel and features a "boomerang shaped" case that measures 38mm wide and 60mm tall. This ergonomic shape is intended so that the display of the watch faces the user more directly, instead of sitting straight up on the wrist. The elegance of this solution, which defines the visual characteristic of the watch, is what makes it stand out as an interesting design.

The case also features an innovative MGS (Micro-Generator-System), this device accumulates energy provided by your own wrist-movements, giving the watch a power reserve of 45 days! This also gives the watch extreme accuracy, high functionality and reliability. Another stand out feature is the Single Scroller enabling the user to intuitively operate the watch´s multiple functions. You can check the standard stuff like the time, date, calendar, chronograph, etc.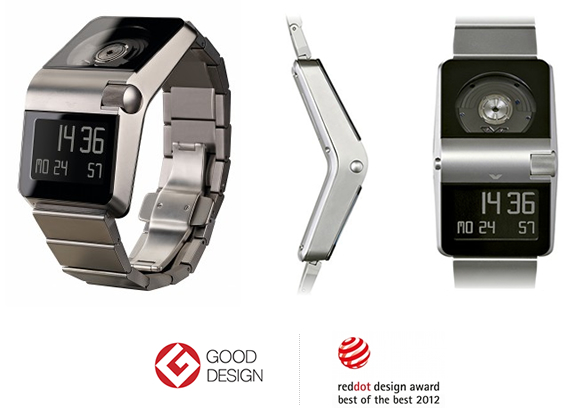 The classic, monochromatic, high-contrast LCD screen features an extremely crisp display and unique rounded numerals created by none less than Adrian Frutiger, the founder of modern typography.

We are big fans of design, and can easily wear this on a daily basis, appreciating its superb design and engineering. It´s neutral and graphic appearance make it easy to wear with just about anything. But keep in mind, this is a man´s watch! Meaning...it is a large case watch, be prepared to strap it tight if you have a thin wrist.

Overall, this is a well-executed and technically most advanced wristwatch, with cutting-edge ergonomics. The price is high, but not only will you be paying for a marvel of engineering, in addition you will have an unique, state-of-the-art, digital timepiece winner of the GOOD DESIGN (Japan) and the Red Dot "Best of Best" awards in 2011 and 2012. Great collectors item.



SPECIFICATIONS



Model: W 51 S
Dimensions: 60.00 mm x w 38.00 mm
Power reserve: 45 days
Weight: ca. 200 gr
Powered by: MGS-11 (Micro Generator System), no battery
Case: Durinox hardened stainless steel
Bracelet: Durinox hardened stainless steel
Automatic backlight control to prevent over-use
Automatic sleep mode
Water resistant 3 bar | 30m/100ft

Check out the Ventura website for more stunning contemporary watches, or follow Ventura on Facebook for their latest news and updates. In the US, you can also buy Ventura watches from Amazon here.



Photography

: Bless this Stuff