Arnette 20th Anniversary Catfish Limited Edition
Arnette Celebrates Twenty Years
With The Limited Edition 20th Anniversary Edition Catfish

Arnette came to life in 1992 in an Orange County garage. With designs inspired by youth counter culture and contemporary fashion, Arnette sunglasses quickly became the de facto badge for a new generation. Almost anyone who ripped it up in the dirt, on stage or on a board, could be seen wearing Arnette's Black Dog and Raven, turning those sunglasses into icons. And then there was the Catfish…

The Catfish was a cultural identifier for those who went against the grain, fusing clean lines and progressive styling in a way that forever changed the sunglass game. A lot has changed in last 20 years, but the classic style and the creative mindset of those that followed and supported Arnette has not. In honor of Arnette's 20th anniversary, we're re-releasing the Catfish in four colors, in limited quantities worldwide.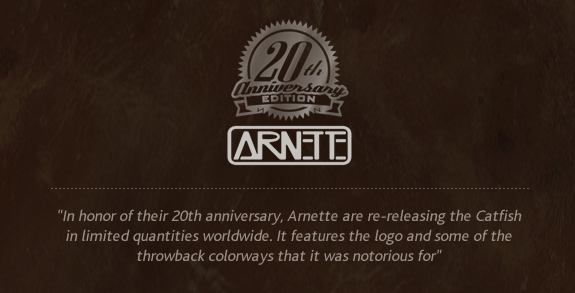 The 20th Anniversary Edition Catfish embodies the same spirit of creativity that helped establish Arnette in 1992. It features a retro-inspired Arnette logo and some of the throwback colorways that it was infamous for. The re-issued Catfish will be available in the original Gloss Black, along with vintage Havana, trippy Inked Green and 90's-soaked Silver with a red mirror lens.

Beginning November 1, 2012, the 20th Anniversary Edition Catfish will be available in extremely limited quantities at Arnette retailers worldwide.

More details on www.Arnette.com and facebook.com/arnette