July 2016 Finds On Huckberry
Once again we have teamed up with our good friends at Huckberry to update our custom, curated BTS Shop. We have picked the most exciting fresh deals this month, with some great opportunities to get your hands on the coolest apparel and travel gear for an active lifestyle and outdoor adventures. Check out our new curated list of some of the coolest products and deals available this month of July on Huckberry . Product details below.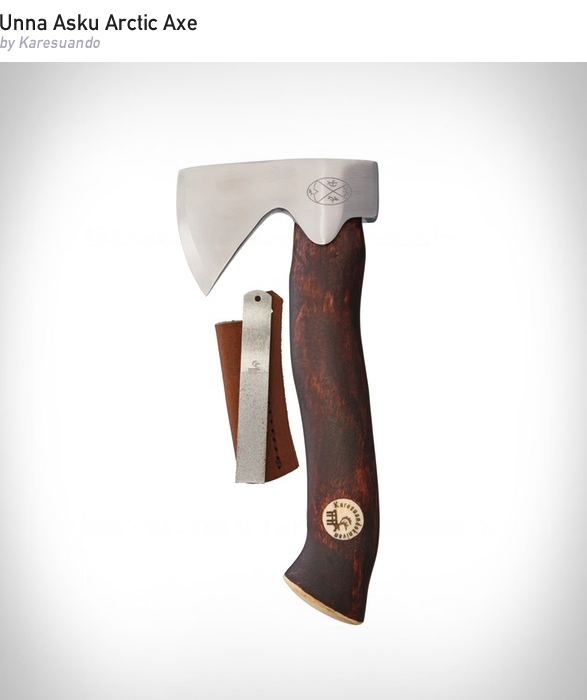 A handsome hunting axe handmade in the land of the Northern Lights and the midnight sun. Karesuando handcrafts knives north of the Arctic Circle in Sweden out of natural materials native to the region. The Unna Asku Arctic Axe is a rugged axe built from local birchwood and reindeer antlers with a stainless steel blade.


$154

$193

| BUY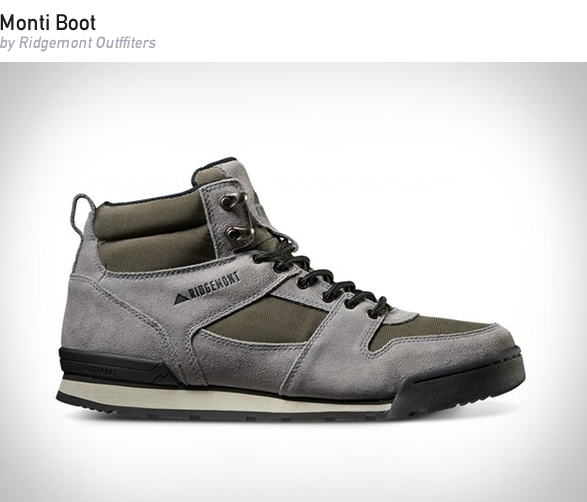 The Monty prides itself in the Ridgemont functionality and performance we've come to love in an exceptionally modern aesthetic. Fashioned from oiled suede and high grade nylon, the Monty features a custom Ridgemont half cup outsole on an exposed EVA midsole with a heel stabilizer for balance and comfort. Discover the Monty as an ideal wear for both your city commute and weekend journeys off the beaten path.


$99

| BUY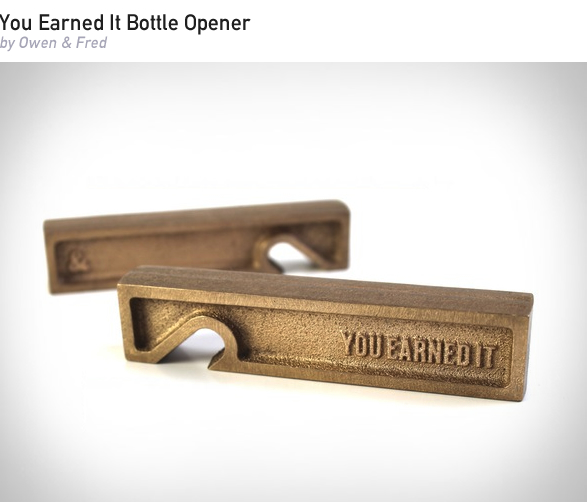 Owen & Fred start with a sand-casted brass bottle opener and then tumble each one to polish them up before hand finishing. Each weighs in at a hefty half pound of brass. The best part? Its the smoothest opening bottle opener weve ever used, and thats not just the post-work beer talking.


$29

| BUY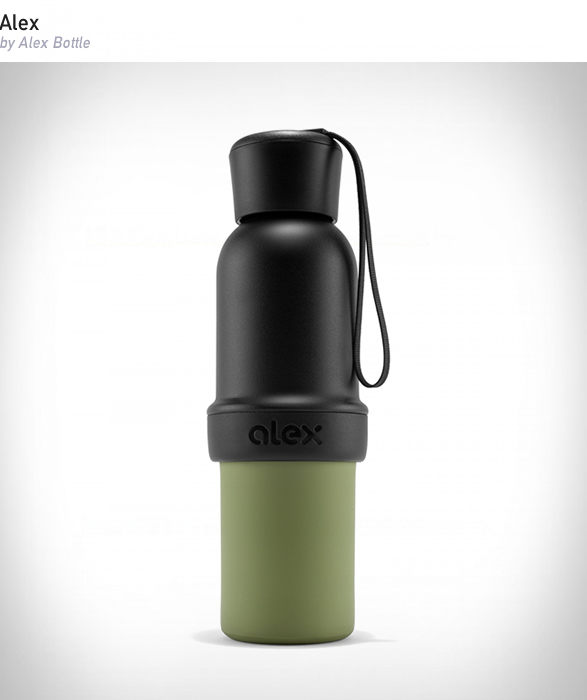 You might think ALEX is made of magic, and we certainly wouldn't correct you. Forged from Premium Grade 304 Stainless Steel, this BPA Free ALEX Bottle holds 26oz / 769mL , has a carrying strap made from recycled plastic bottles, a removable silicone sleeve to protect from denting, and fits perfectly in your car cup holder or bike bottle cage. Need we say more?


$32

| BUY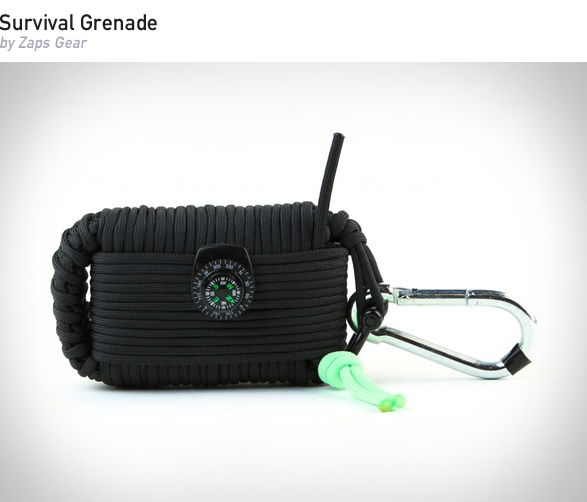 The Z.A.P.S. Gear Survival Grenade is the ultimate lightweight, compact personal wilderness survival kit. It can be carried conveniently on your person or attached to your gear so you can carry it anywhere you go. Originally designed by a former Marine Scout Sniper for his personal forays into the wild, it is now available for you to carry on your own adventures.


$69

$75

| BUY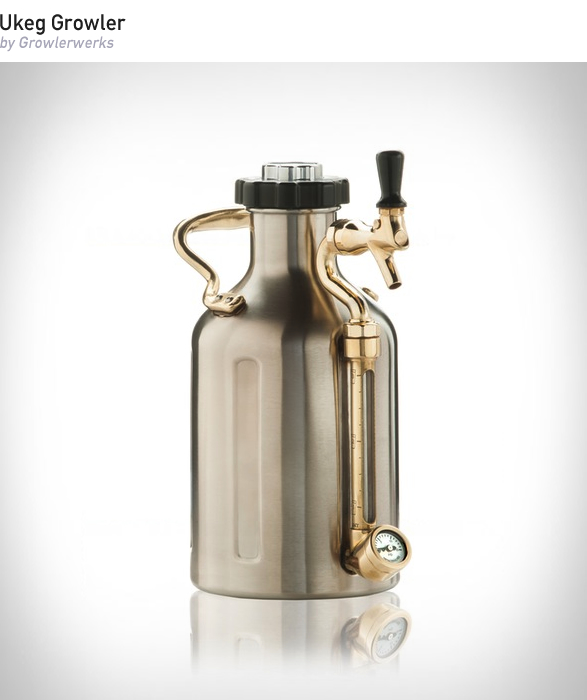 Keep your best brew fresh and on tap for weeks. This mini keg comes in the size of half-gallon growler and is jam-packed with utility, but heres the punchline: it keeps beer cold and fresh for weeks — at the home bar or on the move.


$139

| BUY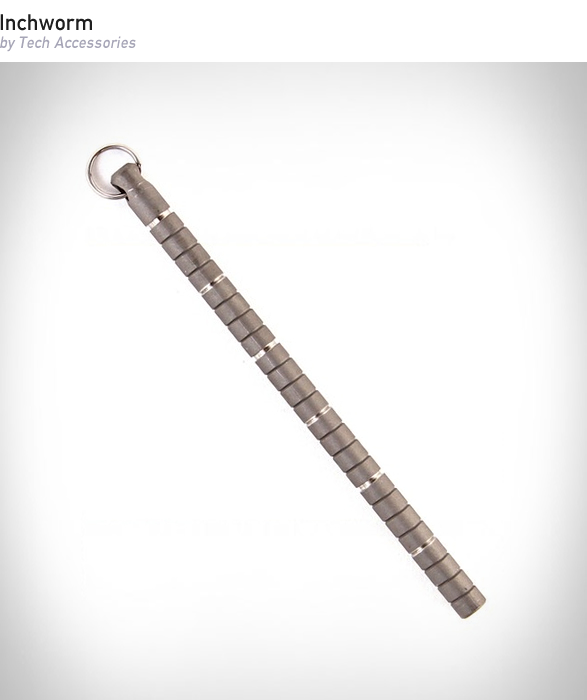 The Inchworm is a functional keychain accessory that youll use more times than you ever thought. A "ruler in the round", the Inchworm is a rod of 3/16" diameter 6Al-4V grade titanium with grooves cut at 1/8" increments up to 3" long. The outside surface is bead blasted to a uniform matte finish, and new grooves are then cut at the 1/2" marks and 1" marks for ease of reading.


$20

| BUY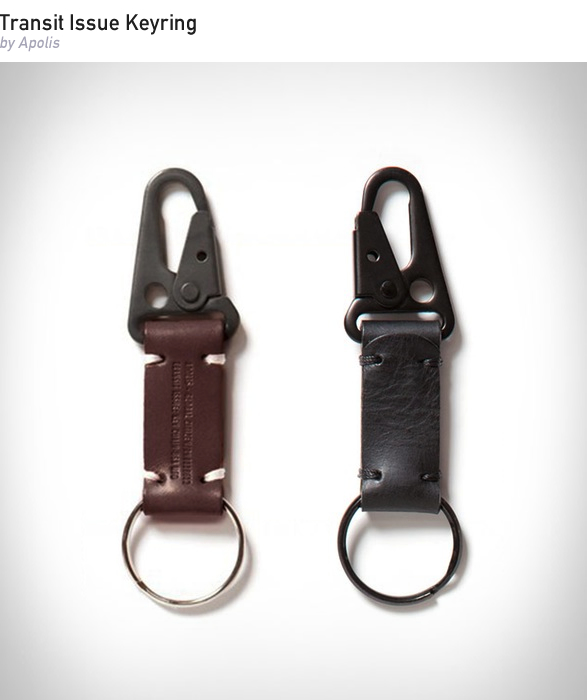 Keep your keys safe with this leather key fob by Apolis, held together with four hand-stitched bar tacks. Los Angeles craftsmen Apolis assemble each key chain with MIL-SPEC hardware, creating a casual piece with a masculine, understated design. Measures 5" in length.


$38

| BUY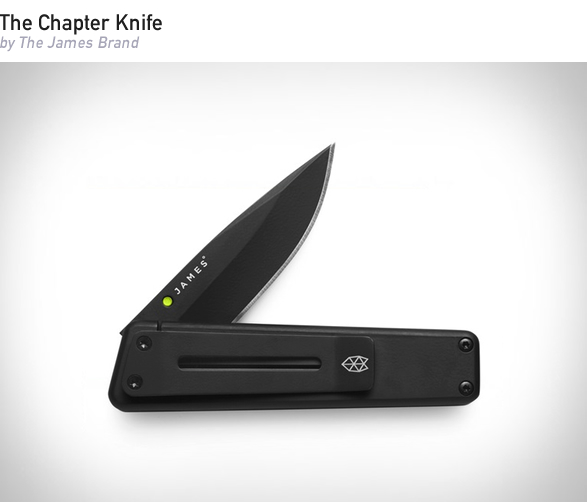 With the Chapter knife, simple is significant. The titanium frame-lock construction is the simplest there is, with minimal moving parts and maintenance. The blade, made of D2 tool steel, stays sharp longer than stainless and resists chips and abrasions. This is a knife that you will use for a lifetime.


$275

| BUY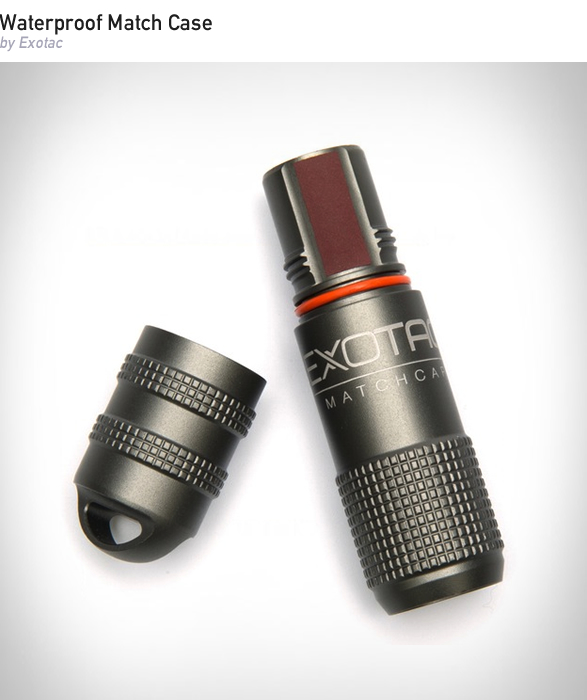 Combining their love of the outdoors with engineering knowhow, the Exotac team strives to design extraordinary, high-quality and unique outdoor and urban gear. The Matchcap is a nearly indestructible waterproof match case for storing matches and other fire-starting material.


$22

$24

| BUY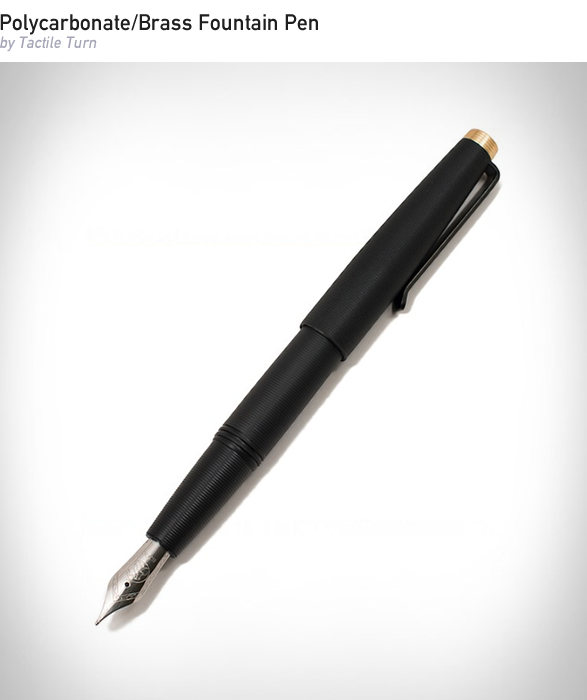 Simple fountain pens that just work.No fiddling. No shaking. Just smooth writing with a pen that feels great in hand. The Tactile Turn Fountain Pen is made for writing, and made to last, no matter how hard you treat your pens.


$89

$99

| BUY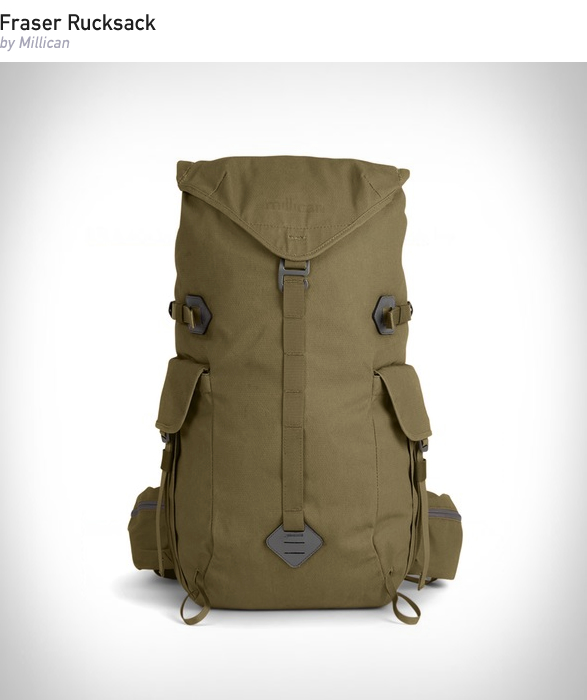 A lightweight, weatherproof rucksack for original journeys worldwide. Fraser has the clean, streamlined lines of an alpine pack, it is functional through and through - we've added multiple pockets for maps etc, tripod or walking pole holders and removable hip-belt to equip your own adventure.


$199

$235

| BUY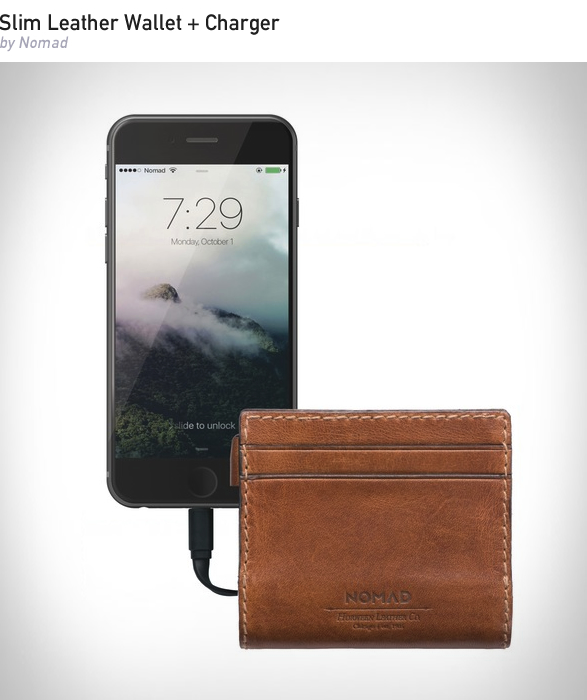 The ingenious Nomad Wallet comes with a built-in battery & lightning cable, capable of providing a full charge for your iPhone! The sleek accessory is the size of a standard wallet, but hides an ultra compact 2400mAh battery cleverly placed on the spine.


$94

$119

| BUY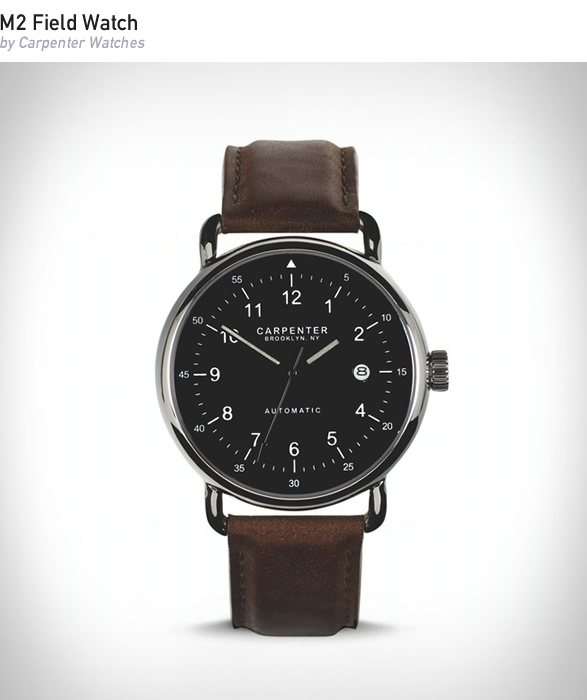 There simply arent many like the M2 Field Watch from Carpenter Watches. Balancing a classically handsome field-inspired dial with the quiet confidence of a sapphire crystal and a Japanese-built automatic movement, theres a clear sense that a man´s "first nice watch" needn´t be anything but one thats designed and built to be a faithful adventure companion for life.


$595

| BUY

Check out our curated BTS Shop on Huckberry.