Nike Tw 14 Golf Shoes
Our friends over at Nike Golf were kind enough to send us the newly released Nike TW 14 Men´s Golf Shoe. You might have noticed them on Tiger Woods at the 2013 Players Championship a couple of weeks ago. The shoes feature the latest in footwear technology, maintaining the prior model´s Nike Free-inspired outsole and adding a redesigned ventilated upper, plus Nike´s Dynamic Flywire technology giving the shoes a glove-like fit. Check out the details and some more photos below.

The Nike TW´ 14 Mens Golf Shoe was specially designed for Tiger Woods, Tiger prefers training in shoes that feature Nike Free technology, so after discussing ideas with the Nike design team, the designers set to work creating a Nike Free-inspired golf shoe. The innovative golf shoe allows golfers to keep contact with the ground longer, better harnessing the energy of the foot to the shoe and, therefore, the shoe to the ground. This allows the user to unleash the full power of the swing, delivering incredible flexibility from the ground up.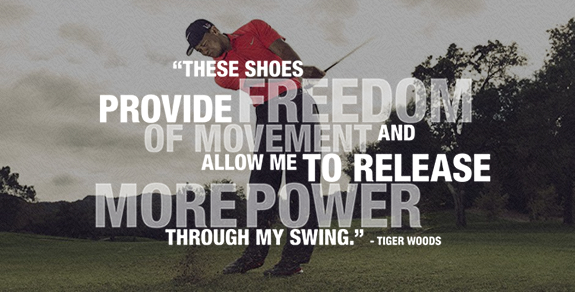 The shoes feature the latest in footwear technology:



FLEXIBILITY


The Nike Free-inspired outsole offers increased flexibility and full athletic motion.
Its designed to mimic and conform to the natural motion of the foot, allowing you to keep contact with the ground longer, supplying more power through your golf swing.



VENTILATION


The redesigned ventilated upper delivers enhanced breathability and comfort.
Strategic perforations and a more comfortable mesh tongue lend necessary ventilation without sacrificing waterproof protection for damp conditions.



GLOVE-LIKE FIT


Nike Dynamic Flywire technology cradles the foot for an adaptive, glove-like fit.
Flywire consists of ultra-light yet sturdy cables that hug and move with the foot during your swing, stabilizing it while allowing for full mobility.



NIKE FREE


Nike Free shoes are specifically designed to let your feet move more naturally and freely than traditional athletic shoes. Over time, this helps make your feet stronger.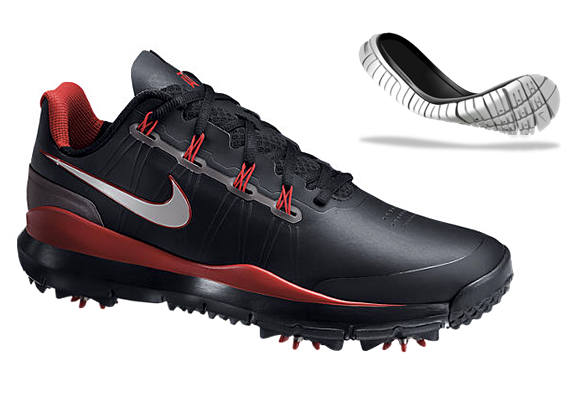 The Nike TW´ 14 Mens Golf Shoe will be available in Black or White, plus Nike are offering complete Nike iD customization, a first for a Nike Golf Shoe. You can create the perfect combination of breathability and traction for your playing conditions, choosing from two distinct uppers: waterproof and breathable, also choosing from two traction options: Spikes or Integrated Traction. You can also personalize your shoes by choosing the color combination and adding your name or an inspirational message.

The Nike TW´14 will be available from June 7th.



Photography:

blessthisstuff