Grid Series Expedition Camper
The
Grid Series Expedition Camper
by Wilderness Campers is the ultimate off-road adventure vehicle. Designed for those who want to explore the unknown and travel off the beaten path, the Grid offers premium off-the-grid capability and comfort. The heavy-duty truck chassis, off-road suspension, and strong aluminum body make it the perfect vehicle for taking on tough terrain.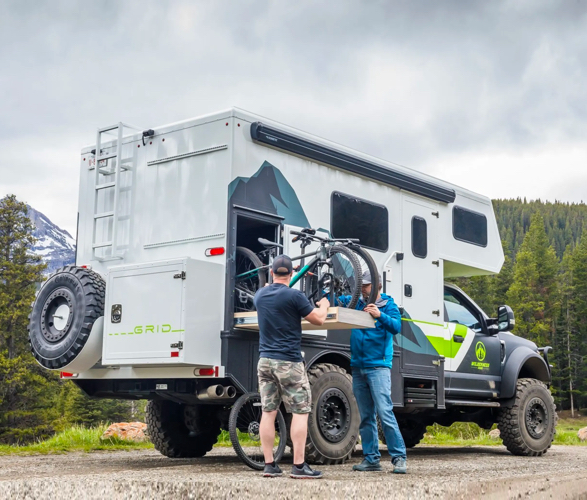 This camper is available for Ford F-450/550 chassis cab trucks, providing you with the capability to tackle any challenge that comes your way. The Grids compatibility with these trucks ensures that you have the power and durability to go off-road with confidence.
One of the most impressive features of the Grid Series is its dedicated gear storage. The passenger side of the camper includes a heated gear tunnel with a slide-out that is perfect for carrying mountain bikes or other large, oversized gear loads. On the drivers side, the tall cabinet accommodates skis, snowboards, and fishing poles. With all of this storage, you can rest assured that your gear is secure and protected from bad weather.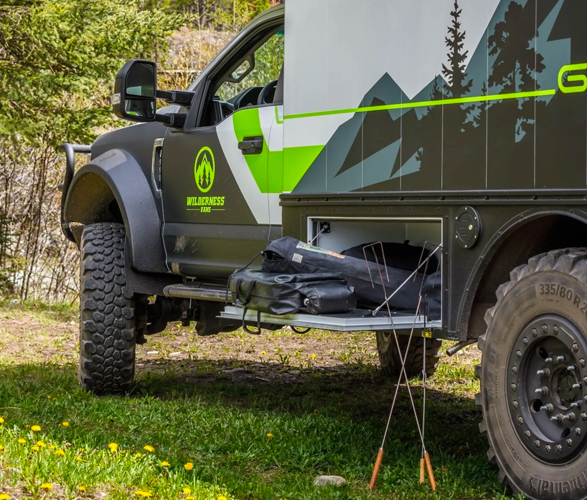 The living area of the Grid is designed to provide all-terrain adventurers with everything they need to thrive off-grid. The camper includes an above-cab double bed and additional sleeping options, such as a convertible dinette, lift-away, and expandable beds. The wet bathroom features a hot/cold shower and toilet behind a sliding door, ensuring that you have all the amenities you need to feel at home on the road.
The kitchen area is fully equipped with a tall fridge/freezer, cooktop, and stainless steel sink with a tall faucet and wood cover. The electric cooktop and other onboard electrical equipment are powered by a 540-Ah lithium battery wired to a 3,000-W inverter and 400-W solar charging system. This mobile app-controlled system is easy to work with, ensuring that you can keep everything powered and running smoothly.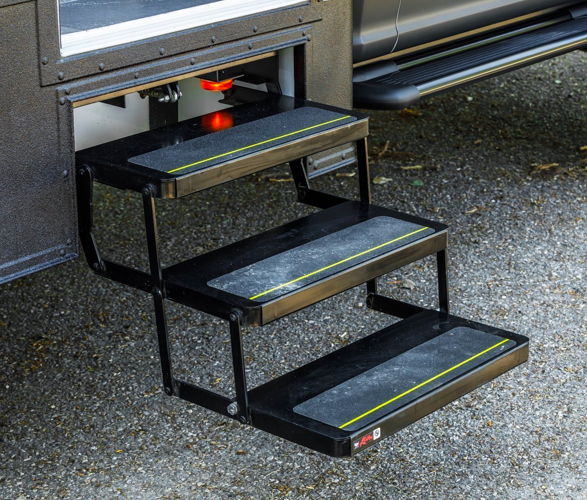 The Grid Series Expedition Camper is designed for all-season adventure travel. It includes a diesel heater, 12-V air conditioner, and closed-cell foam insulation package on its build sheet. The combination of the Maxxfan Deluxe 7500K fan, tilt-open windows, and opening skylight brings in plenty of ventilation when needed. Fresh water is held in a 68-L tank, and the toilet holding tank is accessible from the outside for dumping.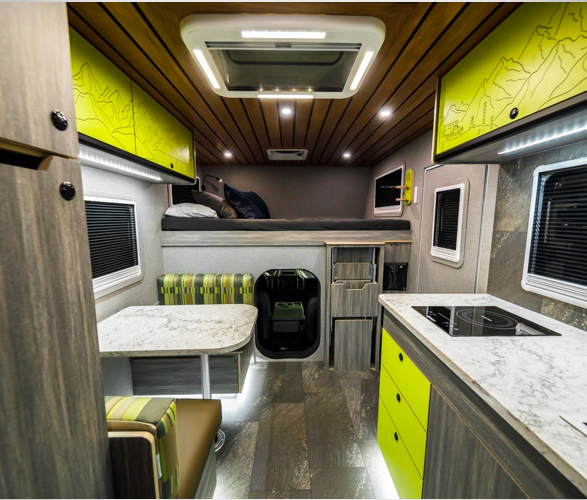 The Grids body is built to last, with over 40 years of experience building bodies for emergency and commercial applications. This means that you can have confidence in the strength and durability of the Grid body.
In conclusion, if you are an adventurer who is looking for a high-quality off-road camper, the
Grid Series Expedition Camper
by Wilderness Campers is the perfect option for you. With its impressive off-the-grid capabilities, dedicated gear storage, and comfortable living area, the Grid is built to help you explore the unknown and take on any challenge that comes your way.