White & White Led Clock | Hands-on Review
We are suckers for minimal design and have been in love for quite some time with this awesome White & White digital LED clock, a modern 3D interpretation of the traditional digital clock designed by Vadim Kibardin of Kibardin Design. So you can imagine how ecstatic we were when our good friends over at design online store "Design is This" were kind enough to send us one for a closer look. Check out below more details and photos of this modern 3D interpretation of the traditional digital clock.

The White & White Clock is a hybrid digital clock that could be proudly wall mounted or displayed on the desk, it borrows the digital watch aesthetic of the past and gives it a futuristic, modern three-dimensional polish to display the time right now. It is simply a white LED clock with white shaped digits that illuminate to indicate the time. You will not find a case nor a frame, only just the necessity: the figures.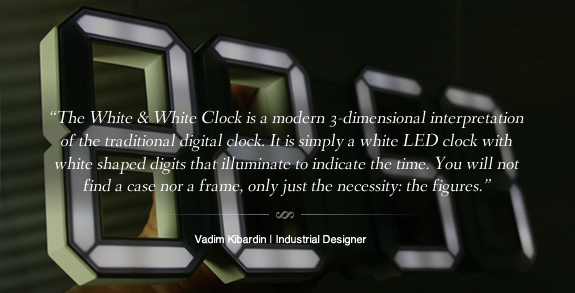 The attention-grabbing clock looks great on a white wall, blending beautifully as if it was floating, and glaring at the clock from afar, makes the glowing digits pop out enough to be legible. The LED backlit digit display glows brightly during the day, and dims automatically when it senses the indoor lightning has dimmed thanks to a built-in ambient light sensor.

Other features include an alarm function complete with a little snooze button, plus date and time display mode 24 hour. It also includes a flip-out kickstand for displaying on a desk. The power supply is conducted through a general mains-operated adaptor that suits any kinds of sockets, and a small battery is installed to maintain the time in case of mains power outages.




Also available is a new black edition of the White & White LED clock which features a black outlined frame and a black power cord.

In all this is an unique and uber cool clock, we love the retro look and the versatility of being able to mount it on a wall or displayed on a desk, and although it is a little expensive, you´ll be getting an unique timepiece that will impress visitors or co-workers and give you instant geek respect.

Make sure you check out "Design Is This" online design shop for a comprehensive collection of design objects created by the most inspiring designers from around the globe.