Minirig
Minirig is a simple little portable Bluetooth speaker, with a charming cylindrical shape backed up by rock-solid build quality, and loud enough to power a party. Designed and built in Bristol, UK, the Minirig is an example of beautiful craftsmanship, inside and out, the robust device is a breed apart and quite different from any Bluetooth/portable speakers we've heard before. Even at the highest volume there is no distortion, which is something other portable speakers have failed to master. Oh, and it has an incredible battery life that lasts up to 50 hours!

Designed and built in Bristol, UK, the Minirig is an example of beautiful craftsmanship, inside and out. Made up of a single machined piece of anodized aluminum with a very minimal design, it has no power switch (simply unplug it to switch off), and features three vertically aligned inputs. In the middle is the power socket, while the top and bottom are two 3.5mm jacks (top is high gain, the bottom low gain). It also features a colorful LED battery indicator.

That said, the real achievement is the audio quality. The focus of the Minirig is all about the sound, inside is a single high efficiency 3" driver that packs a heavy punch! This large surface area driver is able to really connect with the air to achieve a clear and balanced full-range sound in all directions. With powerful bass, clean midrange and detailed treble, you can enjoy your music exactly as intended.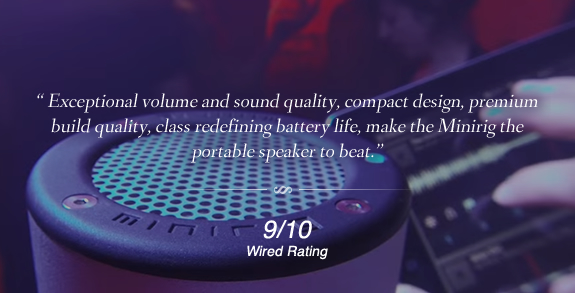 Another thing thats helped the Minirig gain popularity among the sound system crews is its ability to connect up to multiple versions of itself to boost sound. In fact, this ingenious system offers single or a stereo Bluetooth pair of speakers and now there's even a sub-woofer to match.

We spent some time with the 2.1 sound system from Minirig which consists of a 30w sub-woofer that connects to two speakers providing the middle and top end of the sound. You simply connect your phone, tablet or other source and off you go. This setup really takes it to another level, letting you hear those deep bass notes like never before. Such depth and richness of sound, it complements the minirig perfectly. There's also an app for Android and iPhone that enables you to play and pause your music, pair up Minirigs, switch between stereo and mono modes and even turn them off remotely. It's a great little addition to the whole setup.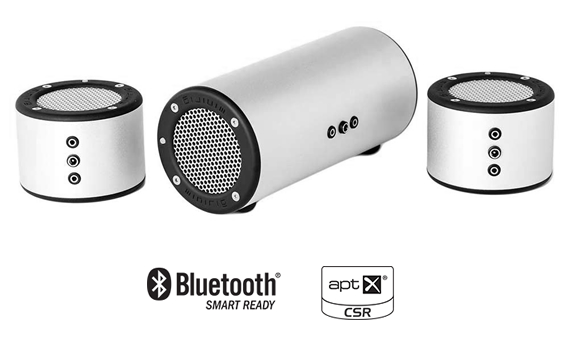 Overall the Minirig has exceptional volume and sound quality, a compact design, premium build quality, huge battery life, making it a full weekend-long speaker, and a reasonable price that make it the portable speaker to beat. Don´t just take our word for it, read every review out there.

The Minirig portable speaker and Minirig Subwoofer are available in several colors, you can purchase them in the US at Amazon, or pick them up in Europe at Amazon.co.uk

Learn more at Minirig, or follow the brand on Facebook for the latest news and updates.