Rha Sa950i Headphones
A couple of weeks ago we featured the RHA MA-350 Aluminum Noise Isolating In-Ear Earphones, the award winning earphones impressed us with their build quality and affordable price. So these would be a great pick if you are deciding between these or a pair of wireless and bluetooth headphones. Now British electronics-maker RHA have sent us their over ear headphones for testing, the SA950i are compact and lightweight headphones with remote and microphone. Read our thoughts and check out some photos below...

The SA950i promise to deliver professional-grade audio for under $60, and the brand states they feature technologies more commonly found in full-sized studio equipment.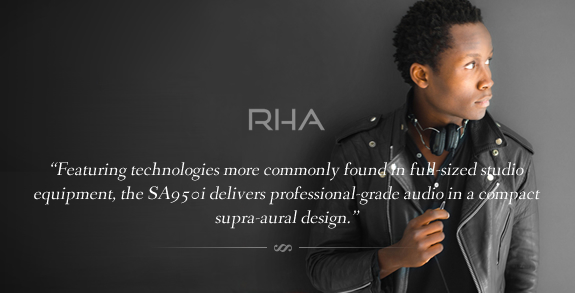 The SA950i´s use a mixture of glossy plastic, aluminum and titanium in their production. You feel that RHA has skimped a tiny bit on materials for the sake of producing great sound. Aesthetically, the headphones are simple, sleek in design, and have a vintage feel. The SA950i´s feature 40mm titanium-coated drivers and powerful neodymium magnets which deliver the full audio with fidelity and precision.

The sound is mind-blowing, and you will be impressed considering they will only set you back $60. They have great base with almost no distortion and excellent tonal variety. Lyrics and vocals are crisp and clear, however you might find a slight lack of definition in high-end.

The cable is fabric braided, an essential detail to avoid tangling as it would with standard cables. This also prolongs cable life. Also included is an inline microphone/remote control. With it you can talk hands-free, play/pause tracks or adjust the volume.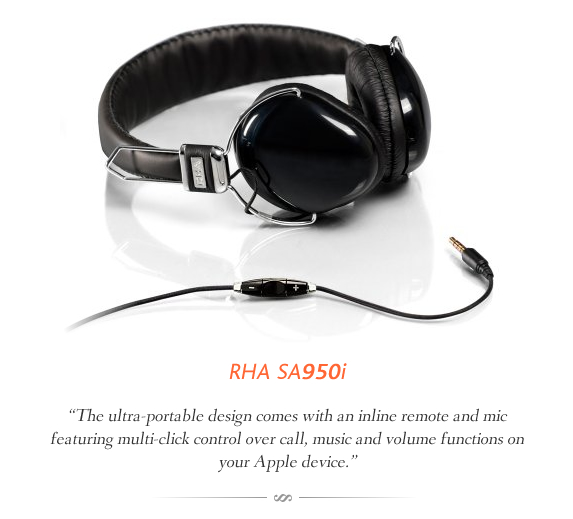 The SA950i are very compact and lightweight at just 105g, making them discreet and ideal for users that don´t like the look of larger and bulkier over ear headphones. They have small ear cups, so if you have larger than average ears you might not get a great fit from these.

All-in-all we found them ideal for traveling and generally active use. The SA950i´s are well-designed pair of headphones and possibly the best over ear headphones in their price range. If you´re looking for some good quality headphones at an affordable price, at $60, it's hard to ask for much more than what the SA950i´s deliver.

You can get the RHA SA950i in the US at Amazon. In Europe you can get them at RHA online store or Amazon UK.



SPECIFICATIONS:


- 40mm titanium-coated mylar drivers
- Single detachable fabric braided cable helps eliminates tangling and prolongs cable life
- iPhone/iPod/iPad remote and microphone
- Adjustable chrome sliders for secure and comfortable fit
- Gold plated connections maximise contact efficiency
- Neodymium magnet and CCAW voice coils
- Lightweight at just 105g



Photography

: blessthisstuff