Golf-grip | Training Aid
Struggling with your swing? Well, that might be because your holding your club the wrong way. Most prominent Golf industry professionals believe the grip is one of, if not the most important aspects of a Golfers game. The Golf-grip is a great little training aid that allows you to achieve the perfect grip position.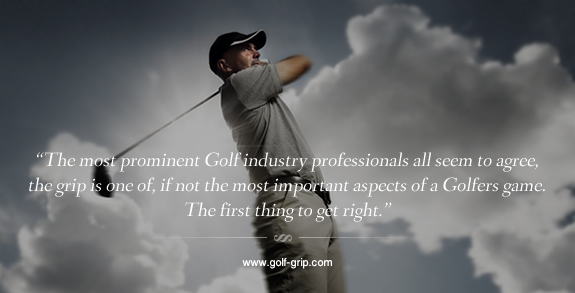 The Golf-grip is very easy to use, you simply slide it up your club shaft onto the rubber grip, then you align the intuitive graphics printed on the golf-grip with the club face and place your index fingers and thumbs on the ergonomic golf-grip. It is a great training aid for beginners but also professionals, after many years, golfers can develop bad habits, one of these is inevitably the slight deformation of grip.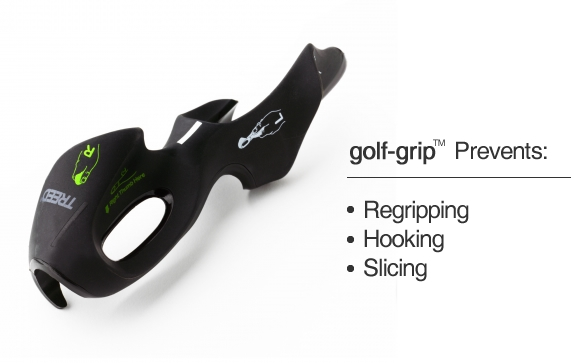 The golf-grip was developed over 5 years, through many hours of ergonomic research and design development. The creators are confident the golf-grip is the best "Golf Training Grip" you can get, below is a list of 15 reasons why:



1 - Removable/Transferable


Requires NO professional installation and is NOT permanent. It can be EASILY REMOVED and TRANSFERED from club to club.



2 - Full hand/finger contact with your original grip


Has cutaways that correspond with ALL fingers AND thumbs for MAXIMUM contact with the original club grip (like NO other)



3 - Full Left & Right hand positioning


Ensures that ALL thumbs AND fingers on BOTH hands are guided into the correct position (like NO other)



4 - Ergonomic


It is FULLY sculpted (like NO other) to comfortably and intuitively coerce BOTH hands into the correct position.



5 - Slippage


Functioning entirely by exploiting the forces of tension/friction this tight wrapping form and it's 12 internal 'anti-slip fins' erase the likelihood of ANYKIND of slippage during the swing.



6 - Sizing


It was engineered to SLIDE up and on to the club. It's near 360° frame flexes to accept any size club grip from a small regular (M) to a large jumbo (XL) VERY securely. The contours of golf-grip™'s ergonomic form are also cleverly designed to allow it to accept 90% of hand sizes.



7 - Grip style


Does NOT interfere with your grip style. It allows for FULL use of either the 'baseball', 'inter-locking' or 'overlapping' grips.



8 - Graphics


Has graphics printed on the product to show you your index fingers and thumbs should sit.



9 - Patented


It is recognised as a new and original design and has FULLY GRANTED Patents from around the World.



10 - Ease of use


Ready to be used instinctively in 4 EASILY achievable steps.



11 - Discreet


It is produced in a SUBTLE black to minimise attention when used with a standard club grip.



12 - Portable


Developed as a SMALL pocket-friendly product, allowing you to carry it with you, unashamedly, at all times.



13 - Dual density


Dual density injection moulded product consisting of a soft rubber-like 'skin' for comfort and an encased rigid plastic skeleton for a 'sprung loaded' grip on your club.



14 - Quality control


Made to HIGH standards - we share production with the likes of Taylormade, Footjoy, Nike, Adidas, and Puma.



15 - Value


Great value for money

Check out the Golf-grip website for more information on the training aid and how to purchase it.



Photography

blessthisstuff