Quebec Lake Cottage
The Quebec Lake Cottage by Matiere Premiere Architecture is a beautiful transformation of a 1950s A-frame cottage in the Eastern Townships. Overlooking a peaceful body of water, this cottage provides a serene escape from the hustle and bustle of city life.



The owners called on Matiere Premiere Architecture and its affiliated construction company, Nu Drom, to design and renovate the three-season chalet. The design emphasizes an ecological approach, using simple interventions to preserve the A-frame typology and enhance the views of the lake.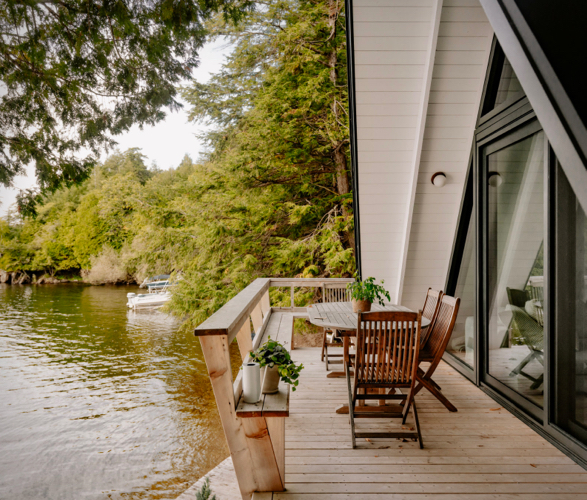 The interior spaces are inspired by "beach house" typologies, featuring light tones of white and sage to promote relaxation. Durable, local materials such as white pine floors and exposed framing, as well as the natural white cedar, metal roof, and aluminum windows, add to the longevity of the chalet while aging gracefully.
The cottage has multiple living spaces, with the main window moved inward to provide an enlarged outdoor dining area and stunning lake views. The staircase has been moved to the rear of the dining area, leading to a mezzanine that offers a cozy reading nook.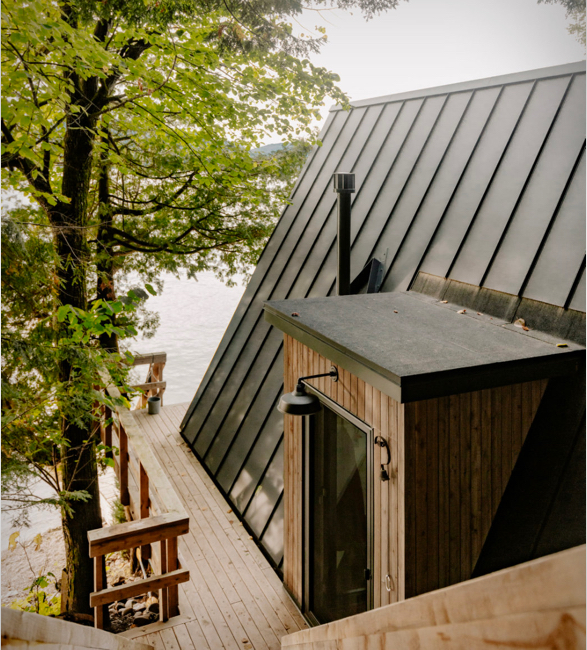 The steep slope and over 100 steps leading to the chalet presented challenges for construction, leading to an ecological approach that prioritized salvaging materials and smart renovations. A temporary zipline was erected to transport materials to the site, and native plants were added to naturalize the shoreline.