Healthier Workstation
"Sitting is the new smoking", how many times have we heard that… We all know a sedentary lifestyle is bad for us, we just don't realize how bad it is. Spending less time sitting down really can add years to your life. If you do not have a workstation that is ergonomic, you could be causing more harm to your body than you realize. There are certain positions that are more natural for our body as we sit at a computer. Today we have rounded up a list of products that help us keep our bodies healthy as we work. What follows are some solutions to help you do just that. (list in no particular order).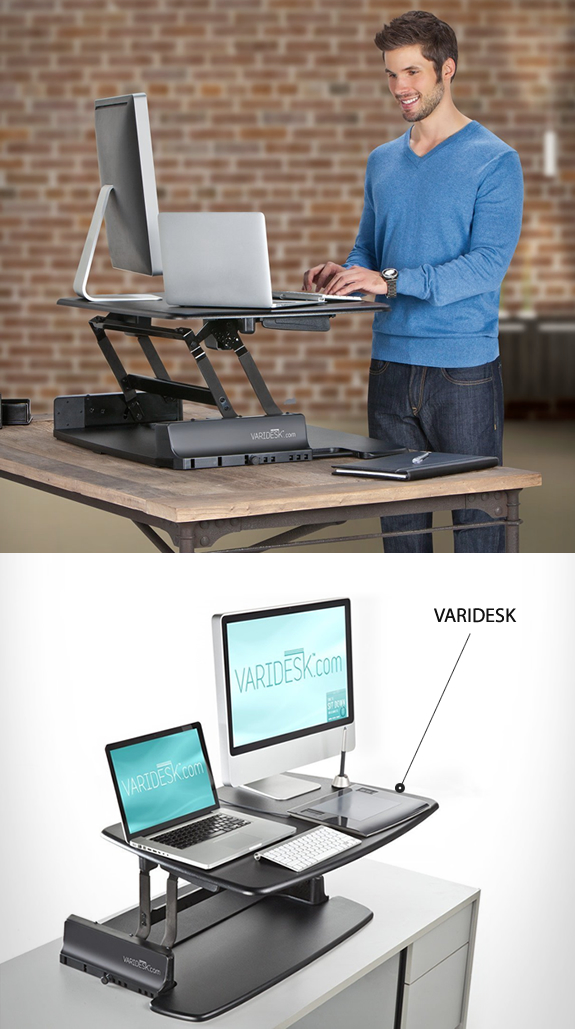 Varidesk

. A sit-stand desk that fits on top of your existing desk and allows you to switch from a sitting to a standing position, and back, in mere seconds. It requires no assembly, no fixed installation and sets up in under five minutes. With a quick squeeze of the spring-assisted handles, you can go from sitting to standing and back in just seconds.

$300

| BUY
Available for purchase in Europe here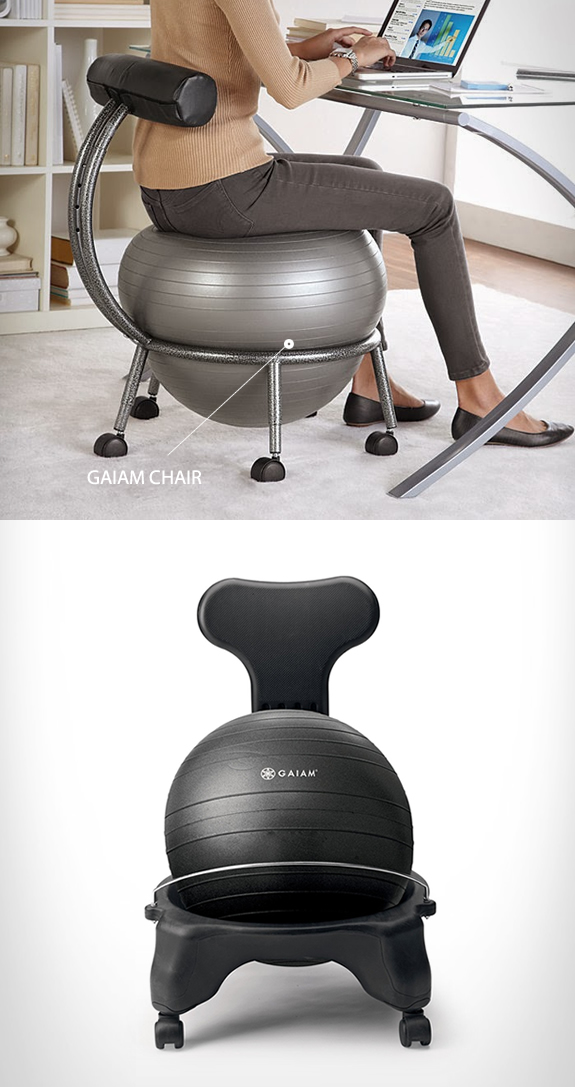 Gaiam Chair

. The Gaiam Balance Ball Chair offers health and fitness benefits while you sit at home or the office. The patented design combines comfort and ergonomic back support to strengthen core muscles and improve spinal alignment, promoting proper posture, a healthier back, and overall well-being.

$79

| BUY
Available for purchase in Europe here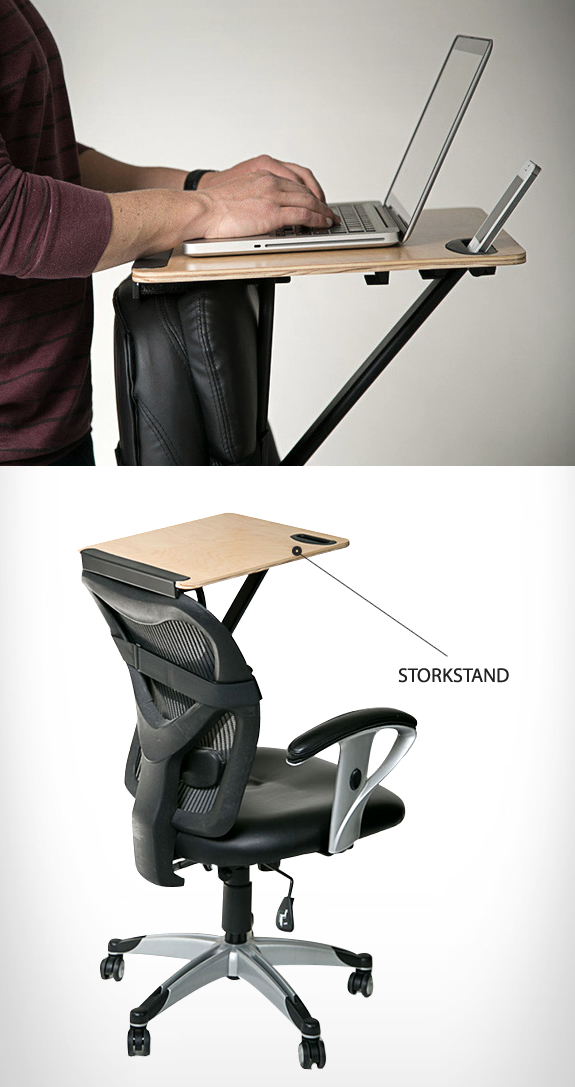 StorkStand

. An affordable standing desk that attaches to your office chair, making it mobile and compact for any office environment. Because StorkStand securely attaches to your office chair, it easily becomes a sturdy podium for those important presentations or a mobile workstation, perfect for any office or home.

$179

| BUY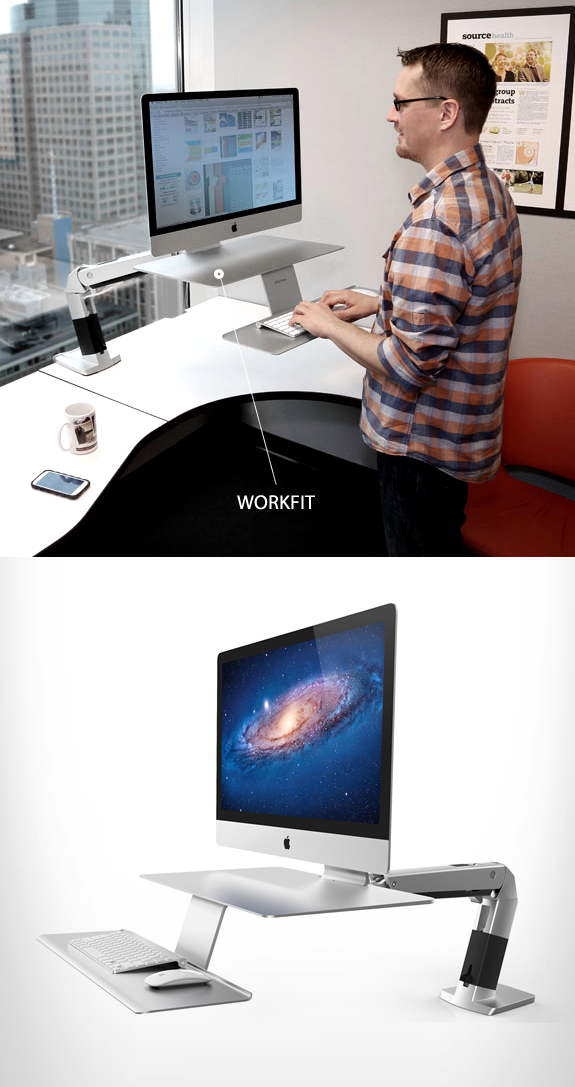 WorkFit

. This premium mount converts your workstation into an adjustable standing desk, allowing you to sit less and become healthier doing so. Freely move the arm with you as your posture changes; swing the arm out of the way when you need your desk surface.

$549

| BUY
Available for purchase in Europe here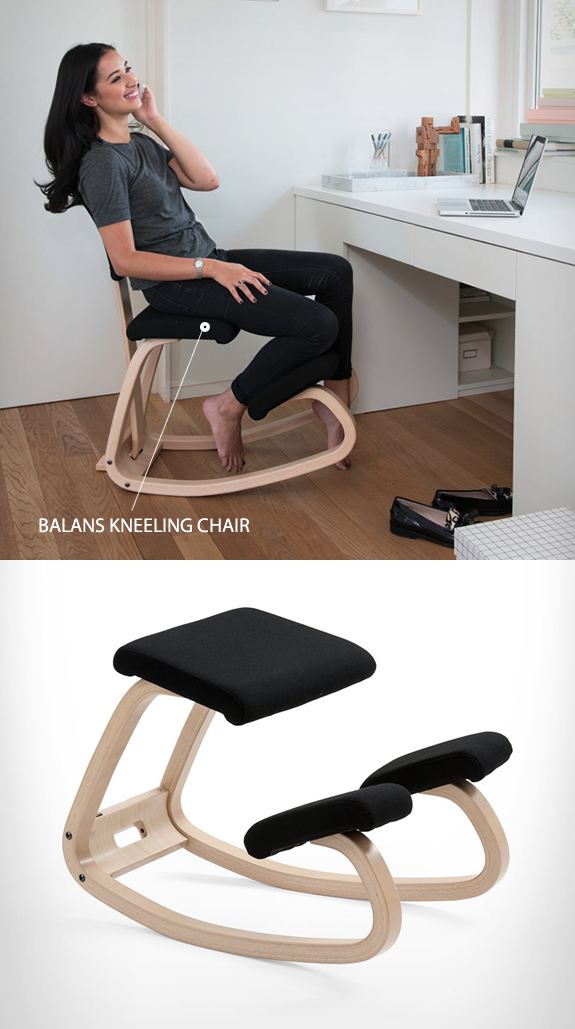 Balans Kneeling Chair

. Body and chair, action and reaction, in a cycle of continuous motion that energizes and enlivens your body and mind. The Original Kneeling Chair Variable balans gives your body the freedom to find its own equilibrium which keeps your back and abdominal muscles working. Runners and shin rests promote an open and dynamic sitting position that keeps your spine in its natural curvature and improves breathing.

$395

| BUY
Available for purchase in Europe here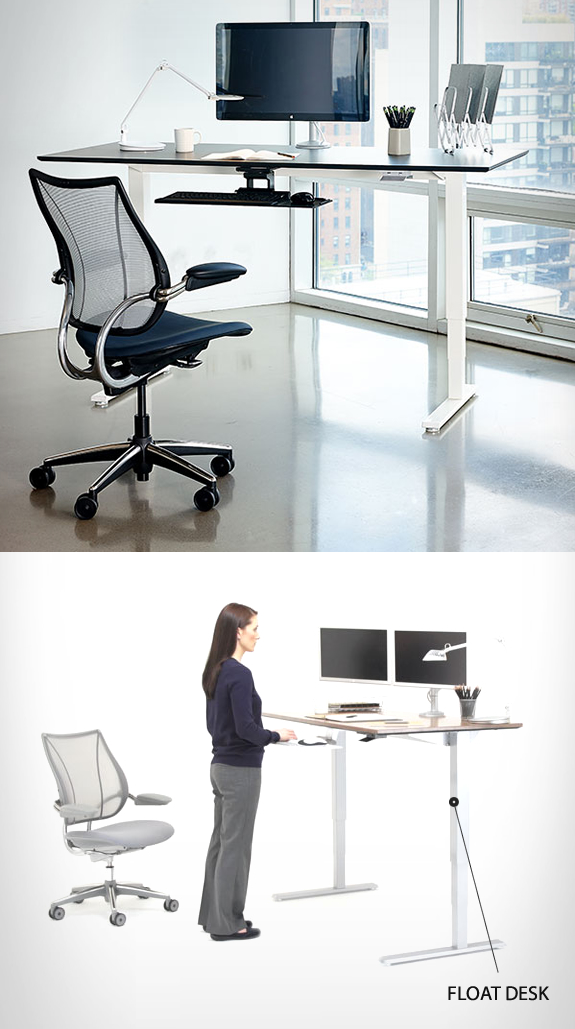 Float Desk

. Height-adjustable desks such as Float are more essential than ever. Featuring a unique counterbalance mechanism, Float enables simple, one-hand height adjustment for ergonomic sit-stand usage, without an obstructive crossbeam, a cumbersome crank or electricity.

$645

| BUY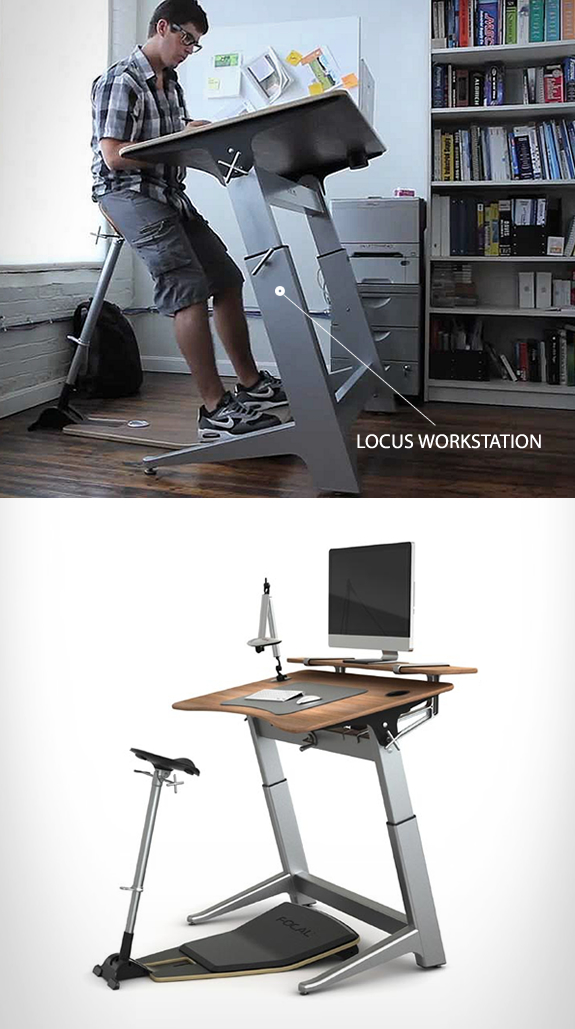 Locus Workstation

. The Locus Workstation is an ergonomic standing desk that is both height and incline adjustable. Used with the Locus Seat, you'll enjoy all the health advantages of a standing desk, while your body settles into a comfortable leaning position that effortlessly supports your body. It's a workstation designed to respond to how you work in the digital age.

$1.999

(Desk +Seat) | BUY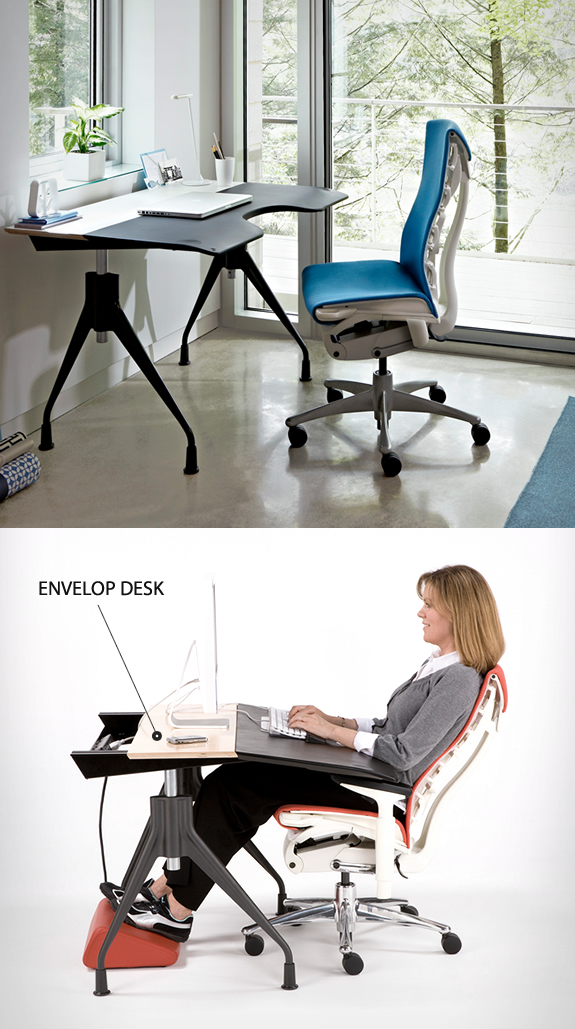 Envelop Desk

. Designed by Herman Miller. You move. Your chair moves. Why not your desk, too? Named for the flexible work surface that slides to envelop you as you work, Envelop is the first desk designed to help you, your chair, your work surface, and your technology work in harmony. Available with a standard pin-height adjustment or sit-to-stand height adjustable legs, it can support a full range of healthy seated and standing postures.

$960

| BUY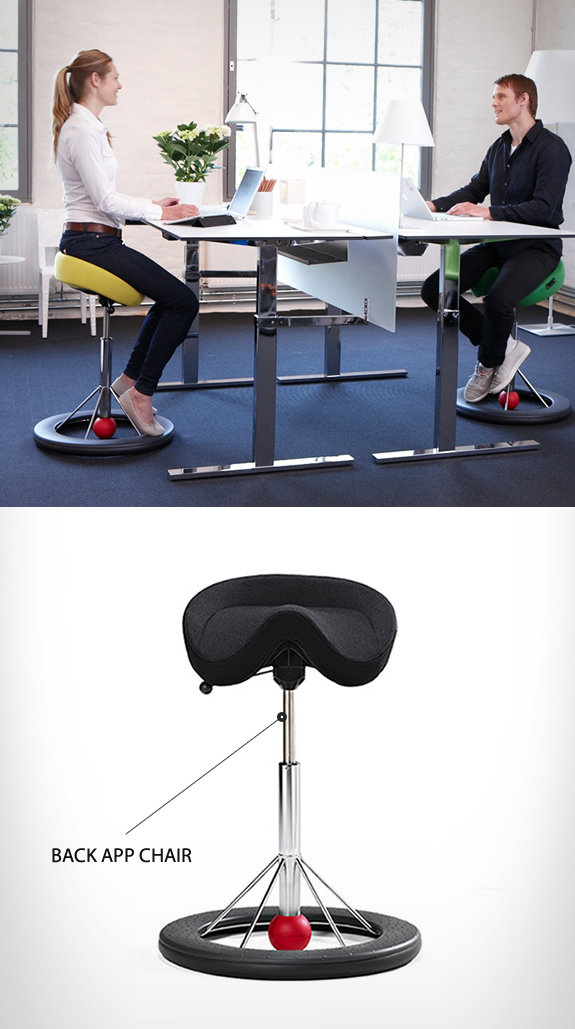 Back App Chair

. The documentation shows that when sitting on the Back App Chair your muscles work less than half as much as when sitting in a regular office chair. The gentle movement of the Back App exercises the muscles that support the spine. The movement when sitting on the Back App comes about because you constantly have to balance yourself.

$1080

| BUY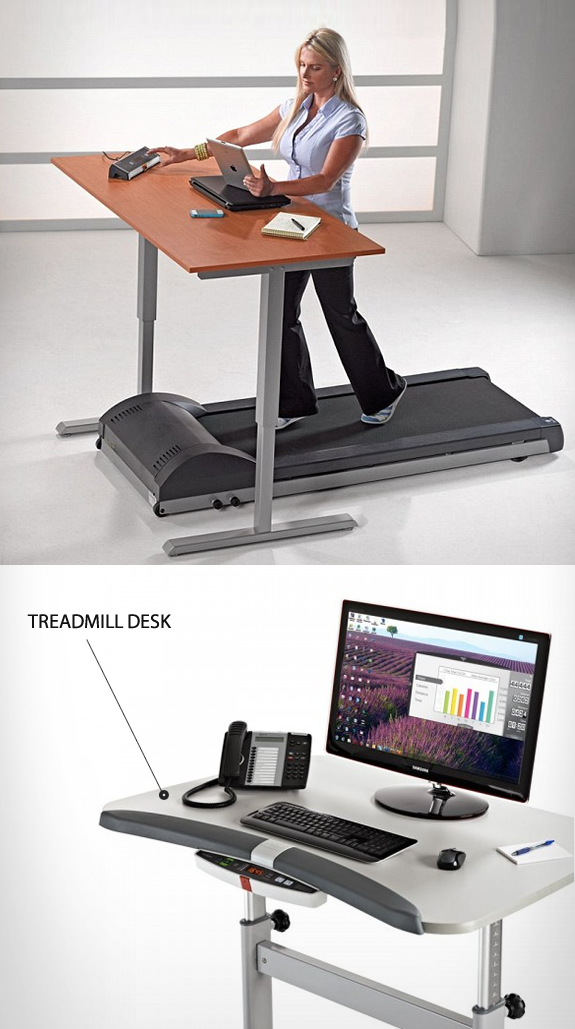 Treadmill Desk

. Walking is great for your health. Imagine if you could do it all day, while you were working. The integrated console is mounted at the front of the desk to give you easy access to the control buttons and workout readouts without getting in the way of your work. With the included app, track steps taken, walking time, calories burned and distance traveled all on your computer screen as you walk.

$1.499

| BUY
Available for purchase in Europe here

Did you know that SITTING kills more people than smoking or drinking?
Watch the Tedtalks video below to find out more...